Majestic Mountain Loop3 National Parks, 3 Days, 1 Epic Journey
Do you hear that knocking on your door? That's summer announcing it's here to stay for a while, which means you get some time off. But those precious days spent away from the office shouldn't go to waste via you melting into the couch binge-watching Netflix's newest series. No, you need to enjoy Mother Nature at her finest with visits to three of California's best national parks.
Where is this tremendous triple-threat of natural beauty? Luckily for you, they're just outside the city limits and CarRentals.com has all the information you need to get there. That's why they've partnered with us to give you the best of the Majestic Mountain Loop that will connect you with Yosemite, Sequoia, and Kings Canyon National Park.


Sequoia
After spending the night in the gateway city of Visalia, get an early start to the day. Gas up before heading to stop number one, Sequoia National Park, the home of the largest single stem tree in the world. But before you gaze upon the Burj Khalifa of trees, check out the Giant Forest Museum and hike to the top of Moro Rock. On your way to the General Sherman Tree—the aforementioned tallest of the bunch—drive through Tunnel Log. You literally drive through a tree.




Kings Canyon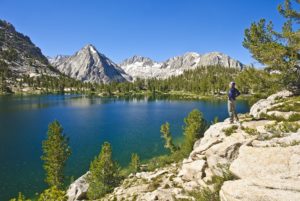 Sequoia is great, but Kings Canyon National Park is your destination on day two. And just like its sister park to the south, Kings is home to a tree older than some rocks. The General Grant Tree is the main attraction of Grant Grove and a must-see. Pack a picnic basket and head to Zumwalt Meadow for a scenic lunch. And if you want to work off the meal, drive to Road's End and explore the many hiking trails in the area. At the end of the day, head to Oakhurst, just outside Yosemite, for a good night's rest, before the last leg of this epic journey.


Yosemite
The final day of your three-day excursion to these beautiful national parks will end at possibly the most famous. Yosemite was declared a World Heritage Site in 1984 and for good reason. Bridalveil Fall, Cathedral Peak, and the U-Shaped Valley are one-of-a-kind features that will light up your Instagram page. But the mother of them all is Half Dome. If you've got the onions, sign up for a cable hike to the visor of this impressive rock formation.
Three days, three parks, one route. That's what you'll get when you set out from Visalia on the Majestic Mountain Loop. Your rental car is about to go on the best drive since it came off the assembly line.
Meta Description: If you thought visiting three of the best national parks in three days is impossible, CarRentals.com presents to you the Majestic Mountain Loop.
Tags: summer, road trip, Oakhurst, Visalia, California, Sequoia National Park, Yosemite National Park, Kings Canyon National Park, Majestic Mountain Loop, car rental
Author: Chris Killen